Worried about the risk of ADA website accessibility lawsuits?
Our GOaccessible Solution Addresses Web Accessibility Needs
Web Accessibility for Blind People
Web Accessibility for Motor Impaired
Web Accessibility for Cognitive Disorders
Web Accessibility for Epileptics
Web Accessibility to the Visually Impaired
WCAG Web Content Accessibility Guidelines
ADA Compliance Issues
GDPR and CCPA Data Protection Regulations
Our GOaccessible Solution Addresses
Installation, free updates and customization to match your brand colors, plus:

Screen-reader optimization for blind users

Keyboard navigation optimization for the motor impaired

On-page, live dictionary/glossary for people with cognitive disorders

Stopping all flashing animations to prevent epileptic seizures

UI and design adjustments for the visually impaired
Our GOaccessible Solution
Plays Nicely With All Websites
Customized to Match Your Site's Look & Feel

AI-Powered

Loads A-synchronously – so won't slow your site

Platform Agnostic (Perfect for HTML, WordPress, Joomla, Squarespace, Shopify, WiX, BigCommerce, Volusion, Magento, Concrete 5, Weebly, and more.)
Contact info@GOsustainably.com for more info and to get a solution in place to make your website accessible now.
GOsustainably DOES NOT PROVIDE LEGAL ADVICE
The information contained here, and the Accessibility Tool and Solutions we offer should not be construed as legal advice on any subject matter. You should not act or refrain from acting on the basis of any content included in this site without seeking legal or other professional advice.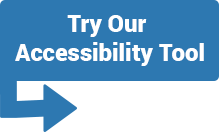 Additional ADA and WCAG Website Accessibility Resources